Source: ABC North Qld
Healing Touch is an energy-balancing therapy administered through gentle touching and manipulation of energy from a distance, similar to reiki or acupressure.
Theatre nurse and Healing Touch practitioner Tracey Jones said treatments moved the body's energy to promote healing.
"Healing Touch practitioners are not faith healers, they don't actually heal," Ms Jones said.
Coming from a traditional medical background, Ms Jones said she was initially sceptical about Healing Touch therapy. "For me it was a real eye-opener to actually embrace this, but I see it working. I feel the energy and other people feel the energy too," she said.
Weaving complementary therapies into study
James Cook University senior lecturer Kristin Wicking said complementary therapies were not offered as a nursing subject, but students were made aware of the range of interventions that could be used to treat patients.
The Healing Touch clinic will be used for student clinical placements and will accept cross-referrals from other allied health clinics on campus.
"Physiotherapy might be working on a client from their perspective … but we are aware that there are other aspects that we could add to the picture by giving Healing Touch treatments," Dr Wicking said. "So that is important for inter-professional training — that the students have a sense of what is out there and what each other does, because they will all be working together when they are out in true clinical settings after they graduate."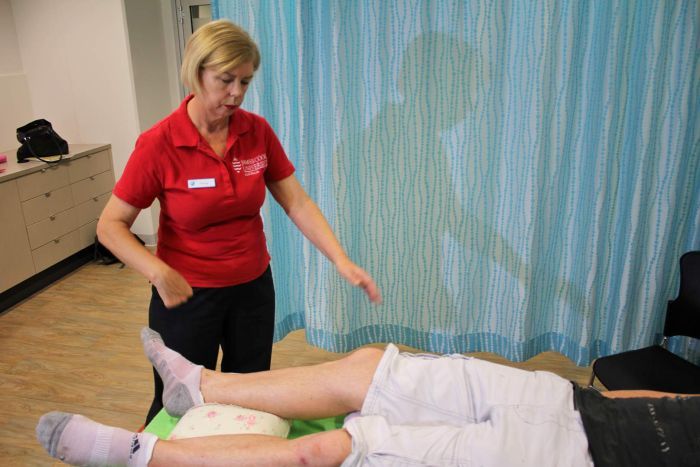 The treatment involves placing hands lightly on the patient or manipulating energy from a distance.
ABC North Queensland: Nathalie Fernbach
Several Australian hospitals have Healing Touch clinics and services, but JCU will be Australia's first university to host a clinic.
Dr Wicking, who completed her postdoctoral studies on Healing Touch, said the therapy was well-researched and proven to be effective on stress-related conditions.
She is hopeful the clinic will be popular on campus with students and staff from the adjoining Townsville Hospital.
"We certainly know that the healthcare industry is a stressful place … and the higher education sector has had a lot of changes as well," Dr Wicking said. "So having some stress relief and stress management literally at their doorstep we hope will be heavily utilised by both the hospital staff and the university staff."
The clinic is staffed by registered nurses who work there on their day off.
---