Author and astrologer Judy Hall aged 77, has died on 5th August her publisher Octopus has announced. Her daughter and granddaughter were at her bedside.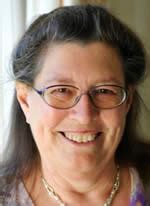 Judy was an author, astrologer, crystal expert, psychic, healer, broadcaster and teacher. "A leading authority on spiritual development, she was renowned for her work in karmic astrology, crystal healing and past-life therapy," Octopus said of the writer.
Stephanie Jackson, Hall's publisher at Octopus, said: "Judy Hall was one of the most respected mind, body and spirit (MBS) writers of modern times, with a hugely influential body of work published over a 40-year career at the forefront of MBS thought and practice.
"Since 1998, Judy worked with Octopus on more than 20 books, primarily for the Godsfield imprint – becoming one of our bestselling authors and a much-loved member of the Octopus family. Thanks to the perennial popularity of her books, her authority in the field of crystals and a number of new titles yet to be published, Judy Hall's legacy will live on through her readers all over the world, for years to come."
CHO Chief Executive, Sue Knight met Judy several times. "Judy was the foremost author on crystals and crystal healing and leaves a huge legacy. Our thoughts are with those she's left behind at this sad time. RIP Judy."
Judy appeared four times in the Watkins list of the 100 most influential spiritual living writers. Author of more than 45 books including The Crystal Bible (Octopus Books) her writing has been translated into 16 languages. Through Nielsen BookScan in the UK she has sold 277,131 books for £2.8m, with her bestseller, The Crystal Bible, on 71,931 copies sold since its 2003 release.
Source: https://www.thebookseller.com/news/judy-hall-dies-aged-77-1274978 and www.judyhall.co.uk
---