With wellness and health being top of mind for many at the moment, we're keen to play our part in introducing and offering Healing to as many people as possible. That's why we're delighted as part of the Healing Forum; working alongside the British Alliance of Healing Associations, Spiritualists' National Union and UK Healers, to play our part in organising Healing Awareness Week, because this year it's impact could be more important than ever.
It takes place from 4th to 10th of May and despite not being able to go ahead with healing tasters, demonstration evenings and talks across the country as would be usual, Healing Awareness Week has an important role to play, especially in our current circumstances.
The intention, as always, is to offer an opportunity for as many people as possible to experience and benefit from Healing during the week (from a distance at the moment) and to let people know how it can contribute to wellness.
And so, Healing Awareness Week this year incorporates The BIG HEAL; an online initiative to create a pool of loving, healing energy, accessible by anyone who needs it. The forum had already started to plan The BIG HEAL before the Covid-19 outbreak - who could have known then that an online focus would be so crucial this year.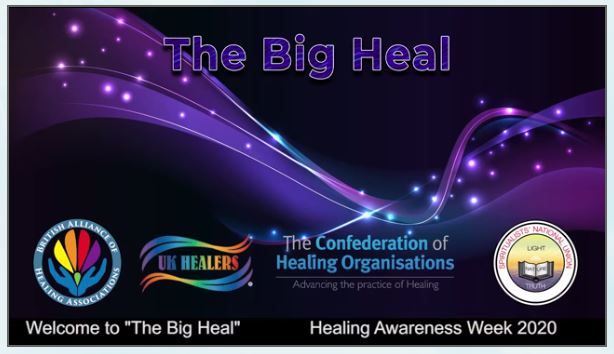 Healers are invited to support and connect from 8pm to 8.30pm on one or each of the evenings during the week, when those who feel they would benefit from some healing energy can also receive it. Full details on how to get involved are at https://healingawarenessweek.org/the-big-heal.
There will also be information and resource sharing online, mostly through the Healing Awareness Week Facebook page, which will share #healingawarenessweek posts or those tagged @HealingAwarenessWeek, plus Twitter on @HealingWeek. So do follow for updates.
This is a time when Healing comes into its own to support people and our planet, so we'd ask all healers to support in whatever way you can, whether that's supporting The BIG HEAL or sharing a helpful meditation or self-care tips.
And if you're not a healer, but interested in finding out more or experiencing healing energies for yourself, we hope you'll get involved too.
Even though we're apart, there's a lot we can do together this week, to share information, experiences and healing energy to support anyone who feels they would benefit, particularly anyone finding our current circumstances challenging. We hope you'll get involved and find something that resonates with you.
---