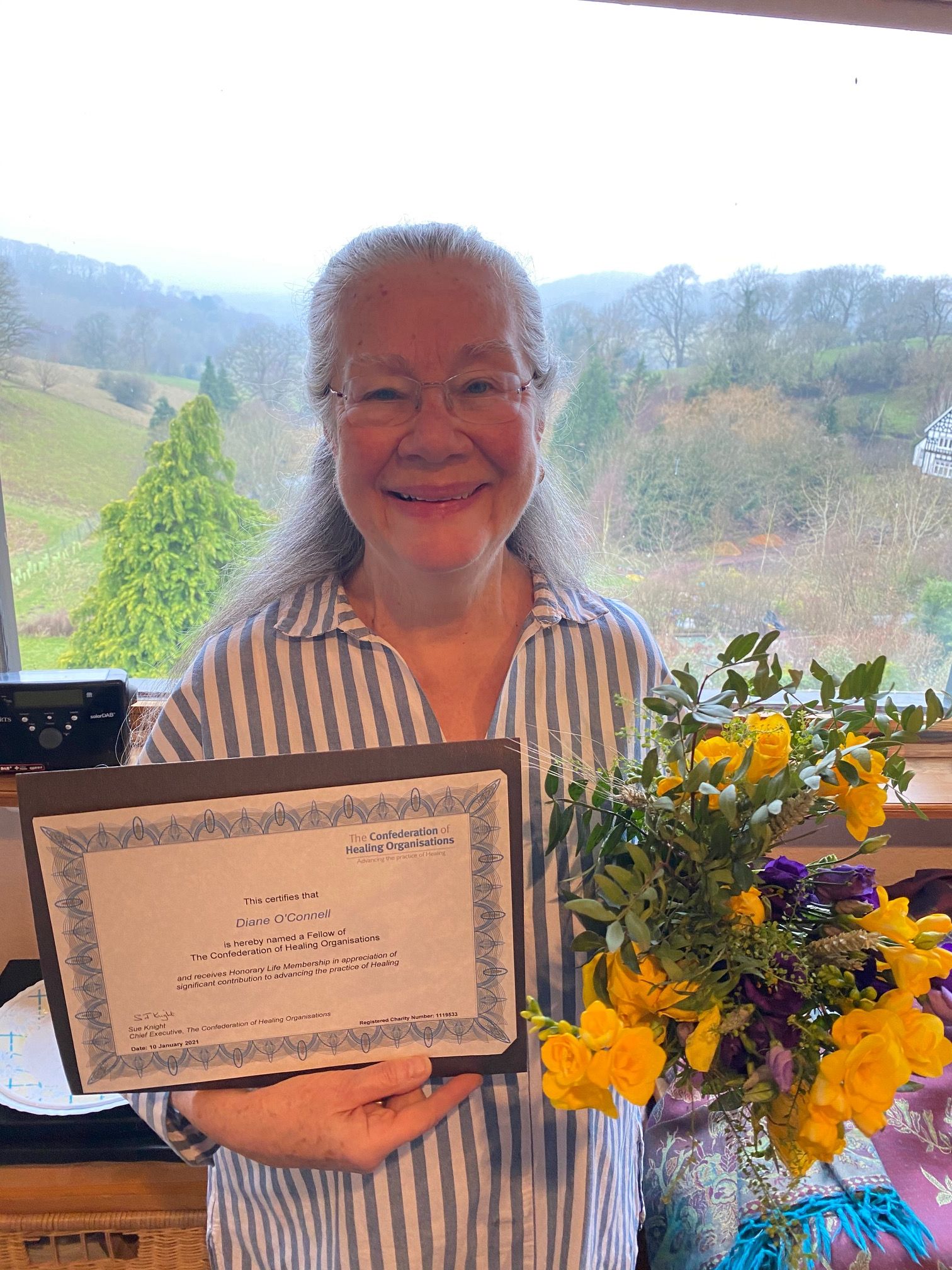 Fellow members of the Board and all of the CHO team were delighted to appoint Diane as the first CHO Fellow during our 2020 AGM, which took place in January this year. The award recognises her significant contribution and commitment to both our organisation and the wider Healing movement over many years. Chair of the CHO Board, Jane Butterworth expressed thanks to Diane, on behalf of the CHO and all our members.
Diane has been involved with Healing since the 1960s and is well known within the sector having co-founded the College of Healing, a respected and thriving training organisation and member of the CHO.
Diane was present at the inaugural meeting of the CHO in 1981, since which time she has played important roles as Trustee, Joint Chair, Chair of the Education Sub-Committee and active member of the Management Team. Her experience and pragmatic approach to strategy and decision making, coupled with her down-to-earth and compassionate leadership style have been extremely valuable in steering the direction of the CHO and are appreciated by everyone in the team.
She has been a regular speaker, sharing her knowledge and experiences at our Aspects of Healing showcase at the Mind, Body, Spirit Wellbeing Festival and as part of our group of healer volunteers, has provided healing taster sessions to the many hundreds of people who come to experience Healing, often for the very first time.
CHO Chief Executive, Sue Knight explained that although Diane has retired from the Board, our association will carry on. Her valued opinion and knowledge would continue to be sought in the capacity of education advisor.
During the Fellowship presentation Diane brought into focus the advances we've seen in the field of Healing. When she first started, no formal training was available; you learned from experienced people and worked in your local area. She added that now people within the healing sector are working more collaboratively; the development of training and communications plus the fairly recent advances in working online mean that the world of Healing has changed dramatically.
Diane said that she was happy to continue to bring her experience to support the CHO, but she's also happy to see others to take on new roles within all our organisations, to ensure succession within the sector.
On accepting the Fellowship and Honorary Membership of the CHO, Diane's dedication to the practice of Healing was embodied by her wonderful words:
"I wish you joy in what you do. Healing has brought me incredible joy; it is what and who I am."
---