The Confederation of Healing Organisations (CHO) introduced Healing to a whole new audience when it took its Aspects of Healing initiative to the Mind Body Spirit Wellbeing Festival last November.
The initiative, designed to introduce and promote the practice of Healing to as wide an audience as possible, included a series of nine well received talks, which attracted much interest and prompted some interesting questions and discussions. Subjects included:
How developing your own spiritual practice helps you maintain good mental health
Learning simple self-healing techniques to help you in your daily life
Practical and emotional tips to support ourselves and loved ones on the final earthly journey
How the power of connectivity aids both personal and global wellbeing
The gentle way to address trauma - regression therapy using flower essences
Feeling the power of collective healing.
Between the talks, visitors to the Birmingham based festival were invited to try out healing for themselves, through a short session with one of a team of healers. All the available slots were quickly booked up and many festival visitors stopped by to find out more about what was happening. In total, 104 people received healing, many of whom said it was their first experience and expressed how positive they had found it. Over £800 was generously donated by the recipients and will be put to good use to further promote the practice of Healing.
The healing sessions were successfully delivered by a team of fantastic volunteers from CHO members, who also enjoyed taking part:
"It was great to be part of the event; I enjoyed the opportunity to connect with people in healing mode and it was a privilege to be providing their first experience of healing".
The CHO is very grateful to everyone who participated for their part in taking the Aspects of Healing initiative to a new and wider audience.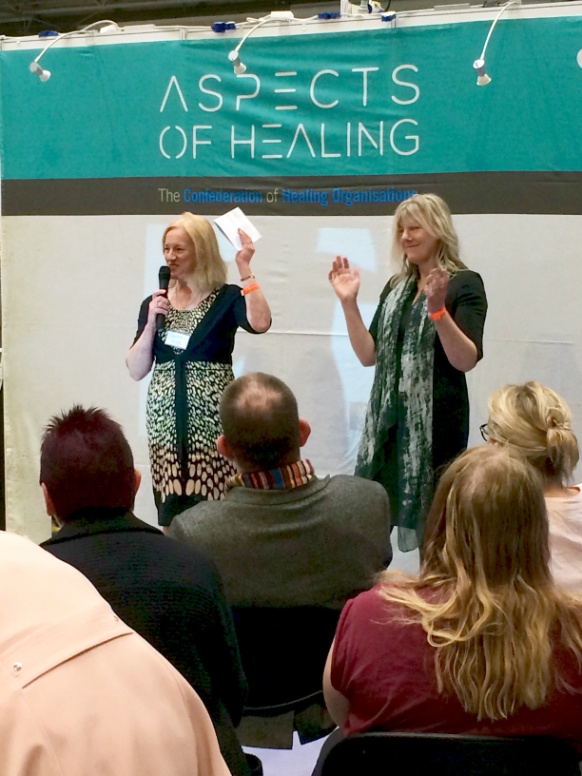 Sue Knight introducing speaker Sarah Jane Williamson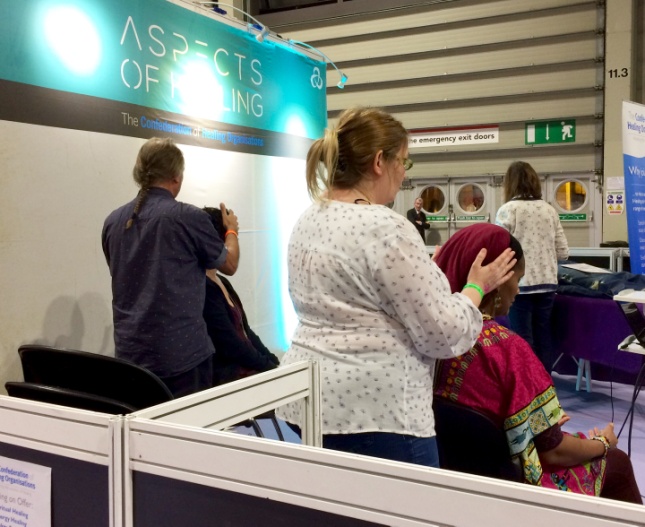 Healing in action
---