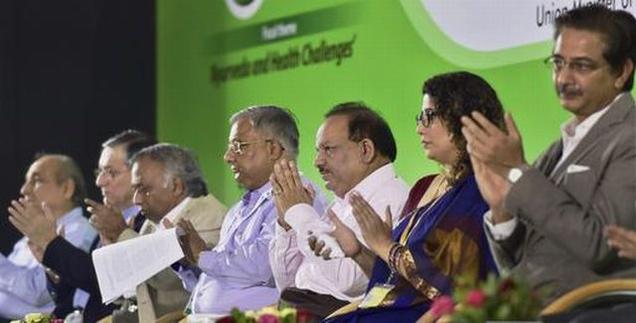 Union Health Minister Harsh Vardhan (C) during opening of the Arogya Expo in New Delhi. Photo: PTI

The Hindu reports that an exclusive drug control department is to be set up to facilitate testing of Ayurvedic drugs.
The department will look after research and development, monitor quality control and standardise the manufacturing of medicinal products of Ayurveda and other traditional Indian treatment systems, the health minister, Harsh Vardhan, announced at the inauguration of the Arogya Expo organised alongside the 6th World Ayurveda Congress in New Delhi.
He said that under the newly-created AYUSH (Ayurveda, Yoga and Naturopathy, Unani, Siddha and Homeopathy) mission, the government would provide funding support to states wanting to set up manufacturing facilities and would create manpower for the traditional medicine industry.
"The chief objective of the mission is to encourage integration of AYUSH with modern medicine and create a holistic healthcare system that can be emulated globally and which will achieve the universal goal of health for all," he said.
Harsh Vardhan said the government, which has allocated Rs. 5,000 crore to the AYUSH Mission in 12th five-year plan, is keen to partner with states in creating state-of-the-art research and development facilities, drug testing laboratories and herbal gardens that will help meet growing industry and market demand for quality raw material and products.
"People across the world are talking about integration and holistic development. Yoga will be one of the greatest healers of the 21st century. That is the reason we have established the AYUSH mission," he said, adding: "We are trying to promote all Indian systems of medicine on a big scale."

Source: http://www.thehindu.com/sci-tech/health/exclusive-drug-controller-to-test-ayurvedic-medicines-harsh-vardhan/article6571201.ece
---