The King's Fund has called for greater integration of gardening as a treatment in the health and social care system in a new report.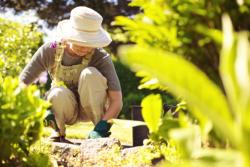 Commissioned by the National Gardens Scheme, the report, Gardens and health, encourages policymakers, the NHS, clinicians and local government to promote the use of gardens and gardening in improving health outcomes.
Targeting clinical commissioning groups (CCGs) in particular, the report asks them to work with local councils to explore gardening as an opportunity for patients in social prescribing projects.
One such project has been running with the support of Lambeth CCG since 2013, in which gardens have been built at 11 GP surgeries, where patients with long-term conditions can learn how to grow food in a safe and secure environment.
Such groups are led by trained nurses and experienced gardeners.
Given CCGs and their GP members are often on health and wellbeing boards, the report recommends they make their case for gardening in this arena.
Crystal Oldman, Queen's Nursing Institute chief executive, said: "There are lots of nurses in the community who prescribe. It opens up possibilities if their clinical commissioning group commits to social prescribing."
She added that nurses already understand the benefits of gardening for patients, but the report will provide them with evidence for their practice.
The report stresses the untapped resource of gardens as nearly 90% of UK households have one and half the population consider themselves to be gardeners.
Research cited in Gardens and health shows that access to gardens has a beneficial impact on a variety of mental illnesses, as well as heart disease, cancer and obesity.
Gardening has also been linked to alleviating the symptoms of dementia and improving balance in older people, which can prevent falls – a costly burden on the NHS.
Sarah Waller CBE, associate specialist at the University of Worcester's Association for Dementia Studies, said: "Gardens can be so important to us particularly at difficult and painful times in our lives. Patients and residents in our health and social care system should have the opportunity to access therapeutic garden spaces wherever possible."
The report comes ahead of the Chelsea Flower Show, which opens next week, where a number of the show gardens will recognise the social care benefits of gardening.
Source: The Commissioning Review News
---